Olivia's Story
Olivia came into my rescue back in October 2015. She was surrendered to us by a girl that had given up on her. She was neglected and abused. She obviously had bone cancer on her right front leg, and the owners had not taken her to a vet, they just decided to put her in a crate and let her die.
We finally negotiated with them to take owner ship after 6 weeks. They were still trying to SELL her on "one man's junk" down in Gaston County.
Once we received Olivia into our rescue, I immediately began to search out treatment options. Olivia's cancer was well advanced, and it seemed that urgency was required. I had a mobile vet come out to the rescue and she immediately suggested that we put Olivia down.
The cancer was so advanced and Olivia was too weak to walk on just 3 legs. It turns out, the original owners had been crating Olivia for most of the time. They didn't walk her or let her out of her kennel, so she had just laid in a crate all day for months on end. This caused her to become weak and malnourished.
The next week, I took her to CountrySide Vet in Conover. The vet said pretty much the same thing. She was too weak for amputation. He prescibed pain meds and suggested that we let her live out her normal life until the leg fractured and then we would have to put her down because of the unbearable pain that would occur.
We took her to Blue Skies Animal Hospital in Hickory for another opinion. Dr. Wiest said that the cancer had probably spread into her organs and other bones. He suggested pain meds and that we schedule her to be put to sleep in a few weeks. At this point, she wasn't able to walk and he was sure that she wouldn't be able to walk on 3 legs.
So, we followed that advice for a few weeks, and allowed Olivia to live here amongst all of the rescues. And a fellow rescuer made a life changing observation. Olivia wasn't eating well, probably due to the pain meds upsetting her stomach. So, we decided to get her to eat. We found that she would eat at certain times of the day, but only if it was FreshPet dog food and you had to hand feed her. So we did. And Olivia began to flourish. She gained strength and playfulness. She didn't seem to be in pain at all, so we cut back on the pain meds. I taught her to walk on 3 legs and she started getting around better….
After a month of that training, we went back to Blue Skies. Her tumor had grown to the size of a cantaloupe. Something had to be done. We told Dr Wiest that we wanted her leg amputated. Regardless of whether or not the cancer had spread. We wanted her to live. He said he wouldn't do it unless we agreed to having her xrayed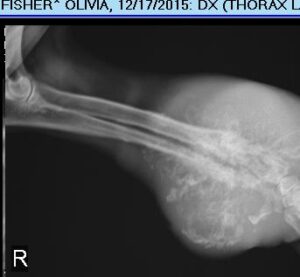 for tumors and we agreed. He came back and told us that he couldn't find any other tumors and that it must be some kind of miracle, because it just wasn't possible.
So, he proceeded with the amputation. That was December 18, 2015. She's still here at the rescue. And she is OLIVIA STRONG.
`