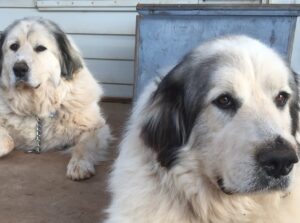 Olaf and Elsa
We rescued 2 Great Pyrenees from a shelter down in York County, SC on Feb 14 and 28, 2017.  They are both Heartworm Positive. We have started both of them on the per-treatment (Minocycline) and hope to have them treated with the Immiticide next month(after they become strong enough). The treatment so far has cost us over $1700 and we still need another $1200 for the next step (Immiticide). Heartworm treatment for dogs this large, and with the disease so far along, is expensive. With your help, we can save these 2 dogs, and then find them a good home, hopefully together. There are links below to their 'GoFundMe' site, a  link to our Paypal site, and you can mail a check if you like.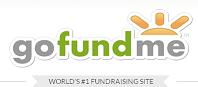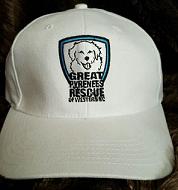 If everyone who reads this would donate just $10, it would make the difference between being able to feed, house, and find homes for every Pyrenees referred or having to start turning away dogs to agencies such as local animal shelters.  Please help us give every Great Pyrenees who comes to us a chance to find a loving forever home, and be rescued from neglect or even euthanasia.
Please post and share with everyone you know!  The more people we reach through Facebook, the more dogs we can save!
We are always in need of volunteers, sponsors and foster parents. If you would like to help, fill out the Volunteer Application online.
If you would like to donate goods or services, contact me to discuss. Director@pyreneesrescuenc.org. We are currently looking for donations of any type of building supplies (to expand our kennel space), dog food, blankets, shampoo, dog medications, toys and TREATS. We can also use any type of cleaning supplies, paper towels, rags, towels, bleach and deodorizers.
Thank you all for helping to get the rescue up and running, and supporting our mission to rescue Great Pyrenees in need of homes.  Two years ago, we  established a new site on property purchased near Claremont, NC, obtained non-profit status from the IRS, and have spread news of the rescue through word of mouth and social media through supporters like you. In the past 2 years, we have rescued 80 Great Pyrenees, and found all of them good, loving homes.
We are now feeling the growing pains of our success.  We are reaching more people than ever before, and more needy dogs are being referred than ever before.  We are ready to accept the challenge and take the rescue to the next level, but in order to expand to meet the needs of the Great Pyrenees in the area, we desperately need funding. We have taken in 3 owner surrenders in the past week.
Donation List
Soft muzzle   L or XLarge
Purina one lamb and rice smart blend dog food
>>> Alpo or Purina can dog food
>>> puppy food
>>> cat food
>> kitten food
>>> dog treats
>> cat treats
>>> dog food bowls
>>> dog collars XL
> Choke collars 22 inch to 28 inch
> bark collars
> dog leashes
cat collars
flea collars
flea medication
Flea shampoo
flea spray
deodorizer
paper towels
old towels
old sheets
old blankets
dog toys
>>> stuffed animals
>>
>>> dog beds
>>
heart worm medication
cat kennels
dog kennels XXL
Canned vegetables
canned meats
hotdogs
spam
Rice
Bacon
Large Milk Bones
>> Gift cards for Petco Petsmart tractor supply